Located between Manchester and Liverpool in North-West UK, Print-Impress specialise in print and embroidery, suppling logo branded workwear, uniform and schoolwear to the commercial sector as well as the general public. Over the years we have built up a good reputation and we have supplied our garments to businesses large and small. From supplying to tradesmen wanting to show off their services to everyone around to large businesses such as Chester and Bangor-on-Dee Racecourses, we have catered for them all. Please take a look through our website, we're sure won't be beaten on price and there is the option to "request a quote" before you buy anything.
OUR SERVICES
EMBROIDERY
If you are looking for a professional look for your buisness and a long lasting option we can recommend embroidery. We can create your business logo or slogan into an embroidered design. We only use the best quality garments and threads for your business to create a high quality finish which will last. You can email your company logo to us or call into our shop with the file on USB. If you have had your logo embroidered before and you have access to  the .EMB or .DST file we can use that.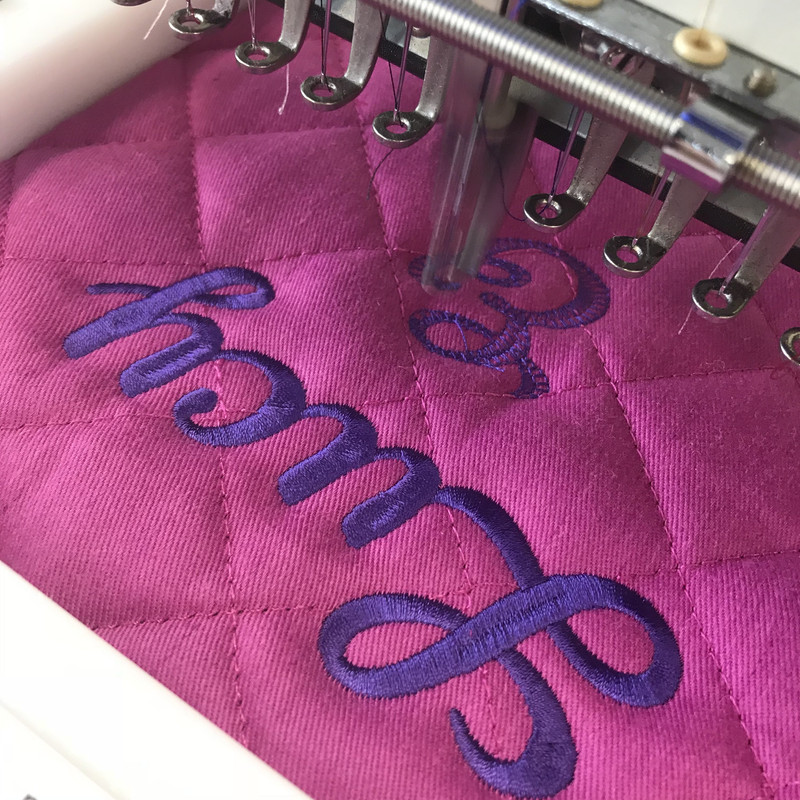 New Logo
If you have not had embroidery on garments previously you will need to have your logo digitised. Digitising is where we convert your logo into stitches. Our one-off charge of £10.00 (inc VAT.)  Make sure you tick the "YES" option on the personlise page when asked "Is this the first time you have uploaded a logo/text". Once you have completed checkout, you can then use this logo for any future garments you purchase from us. On future orders, make sure you tick the "NO" option on the personalise page.
Existing Logo
If you have placed orders with us before, and have already paid the digitising fee, you will not need to pay again. If you used a different company for your embroidery for any previous orders, you can ask them for your embroidery file.
VINYL PRESS
Vinyl press is the most economical way of personalising your garments. Our prices start from as little as £2.50. 
Vinyl pressing is a very popular way of adding your company logo to garments. We have the very highest quality machines for vinyl pressing, this ensures we deliver the best quality and most professional look for your garments. As with embroidery, you can send us your company logo by email or call into our shop with a USB stick. This again will carry a £10 fee to vectorise the logo, unless you already have the logo in a vector format, preferably a .EPS or .AI format. If you have used us for this service before we will still have it on file. Vinyl pressing is largely used for Hen do/Stag do t-shirts, large back prints on t-shirts and Hi-Viz vests and rain coats. We have a wide range of colours to choose from. Please see below for our vinyl colours available. More colours are available on request. 
---